The FPIC-360° Tool Development Process
FPIC-360° is an Equitable Origin initiative in partnership with the Roundtable on Sustainable Biomaterials (RSB) and the Coordinator of Indigenous Organizations of the Amazon River Basin (COICA). This project is co-financed by the ISEAL Innovations Fund, which is supported by the Swiss State Secretariat for Economic Affairs SECO.
Development process: co-creation and stakeholder input
Working Group of ISEAL Member Standards and stakeholders provided input on the research and development process
Workshops in Colombia, Ecuador and Peru with leaders of 15 Indigenous Peoples nations
Findings
Need to focus on the process and enabling conditions for FPIC, not just the output
Lack of tools for communities to provide input in monitoring and verification processes
Need for communities to be co-designers and co-owners of the FPIC process of the Expectation / Norm as defined by Standards.
This project has been supported by an expert Steering Committee comprising members from the voluntary sustainability standards community, international human rights and law experts, international finance institutions and Indigenous Peoples' organizations.
Find the full project report: Enabling FPIC Through Voluntary Standards (September 2018) in the Document Library.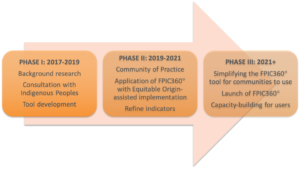 The three phases of the pilot project (Activity, Application, and Evaluation) are below: